Make a statement with our stunning new Cast Scentsy Warmer. This 4 in 1 warmer is both amazing to look at and incredible value for money!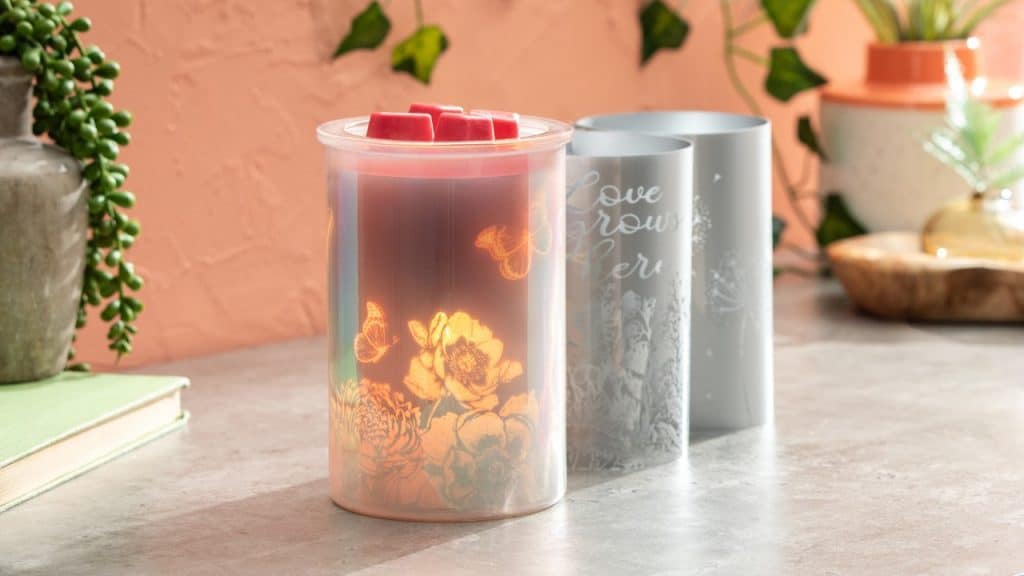 If you're looking for a fun and flexible warmer for Spring then our NEW Cast Scentsy Warmer might be the perfect choice for you! All our Scentsy Electric wax warmers are a safe, non toxic and clean way to fragrance your home without a flame.
A pink silhouette sets the scene of your choice thanks to interchangeable warmer inserts. The Spring Pack (included) includes three spring-inspired inserts. Alternatively, the Cast Scentsy Wax Warmer is just as pretty left plain with its iridescent finish and warm, ambient glow.
Turn the lights off to really see the insert shine through!
As with all of our warmers it's as easy as pie to use!
1. Plug the warmer in.
2. Add desired amount of Scentsy Bar wax cubes to the warmer dish
3. Turn the warmer on and enjoy!
4. For easy cleanup to switch your fragrance, add some Cotton Clean-ups to your order.

We think this warmer pairs beautifully with our Stencil Scentsy Warmer Stand, which is super on-trend with it's vintage coppery finish. Stylishly showcase your Warmer while keeping any unused portion of the cord hidden!
Love this new Scentsy Electric Wax Warmer? Then get our newsletter bi-monthly and hear about all our upcoming releases FIRST!
Love reading our blogs? why not get our bi monthly Scentsy newsletters? Our newsletters are full of great trend and decor advice plus special offers for customers. You can sign up here and join over 10,000 happy scentsy newsletter readers.