Scentsy Wax Melts/Scentsy Bars
Safer than traditional candles with no flame, soot or parabens!
Scentsy Wax, or Scentsy Bars as we call them, are available in over 100 amazing fragrances. You take these wax melts and break off 1-4 to melt in the dish of an Electric Scentsy Wax Warmer. Our Warmers melt the waxes using a lightbulb or low temperature hot plate. This means we are the safe alternative to candles with no flame, no soot and no toxins! Just amazing, safe fragrance that spreads throughout the home or office.
Scentsy Wax
Features & Benefits
Available in over 100 fragrances
Combine two or more different Scentsy fragrance cubes to create a new scent
Increase the fragrance strength by adding in more wax cubes
Designed by award winning perfumers & fragrance designers
Incredible value when compared to Jar Candles.
Seven fragrance families offer something for everyone
We make fragrances for Disney
You can learn more about our Scentsy Wax with our detailed FAQS below. Firstly I want to share the best selling Scentsy bars in the UK/ Ireland for 2020.
Best selling Scentsy Wax Bars for 2020
Where are Scentsy Waxes made?

Scentsy Waxes are made in Boise, Idaho, USA in the specially designed wax factories. They make over 365 million wax bars per year in the Scentsy factory.
What kind of wax is a Scentsy Bar made of?
Scentsy uses a food-grade petroleum-based wax to make its Candle Bars, just like many well-known and loved Jar Candle manufacturers (but read on because our Scentsy candle bars don't release any harmful toxins). AHHHHH what is food-grade petroleum wax i hear you ask? Food grade petroleum wax is the same wax they spray on apples in the grocery stores, to give them their shine.
Why is Scentsy Wax made from paraffin wax?
Scentsy chose this wax because of its superior scent loading ability, low melting point and firmness. The candle making team looked at every wax type, but couldn't find a good quality vegetable based wax that held the scents. Using this food grade paraffin wax allows us to create long lasting fragrance bars. Orville Thompson, Scentsy CEO, give you the full low down on why Scentsy uses paraffin wax here.
Is Scentsy Wax safe to breathe in?
Course it is, far safer than breathing in sooty candles! Scentsy Warmers only warm the scent out of the wax – the wax remains in the warmer, so there is no danger of chemicals normally associated with burning candles (see our candle toxins blog) being released into your home. After a few days of use you will end up with a piece of non smelling wax that you dispose of and replace with a new Scentsy candle bar!
Are Scentsy bars all natural?
No Scentsy bars are not 100% natural. Scentsy fragrances are created with SAFE natural and synthetic ingredients to offer the widest range of scent experiences. Want to learn more about the differences between natural and synthetic ingredients? Check out this post.
Are Scentsy Products, including the wax melts vegan friendly?

No, please read the full response (taken from Scentsy blog) to understand why.

In order to fully meet Cruelty Free and Vegan standards, it is required that neither a finished good nor its ingredients be tested on animals.

Scentsy products contain no animal bi-products. Also Scentsy never tests our products on animals, and we strive to use cruelty-free materials from our suppliers. However, because our raw ingredients come from many sources, we can't guarantee every ingredient is cruelty-free.

Therefore depending on the product, individual ingredients may have been tested on animals at some point. Scentsy products use literally 000´s of ingredients in our full range. This means we can't be 100% sure that somewhere in this huge supply chain there isn't something tested on an animal. At Scentsy we have chosen not to claim standards we cant 100% prove, we don't lie.

However we state again at Scentsy we strive to use only cruelty-free materials from our suppliers. And none of our final products are tested on animals nor do we seek to knowingly use anything tested on an animal in our products.
What temperature does Scentsy Wax melt at?
Our wax bars melt at about 56 deg c – this is a little under the top temperature our electric wax warmers create.
What's the best way to store my Scentsy Bars?
Scentsy Waxes should be stored in a cool, dry place away from heat and light. Your wardrobe is perfect!
How long does a Scentsy bar last for?
Thats the most difficult question to answer because it all depends on a few factors including what type of fragrance it is, humidity in the home and more. You see Scentsy bars contain fragrance oils and they melt away at different temperatures…so if your bar is made of fruit oils they melt at about 52 deg c. So with our warmers being 56 deg c your fruit bars wont last forever – but spice oils the melt off at 72 deg c plus will last and last.

Humidity in the air also determines how long a fragrance bar lasts – humidity means the water in the air sucks up the perfume. SO more humid a home the less time a bar lasts. That said we live in Spain and even with the humidity I still get 3 weeks from a bar! To give a short answer we say a bar of 8 Scentsy cubes can last from 1 to 3 weeks no problem!
How do you remove wax from a Scentsy Warmer?
Best way i find to remove wax from any size warmer, including our Mini Plug In Warmers, is using cotton wool balls. Just pop in one or two cotton balls and let the wax get soaked up. Then use a clean ball to wipe the bowl or dish out and load with new Scentsy cubes. If you have residue (often yellow scum) in the warmer dish dont worry thats fragrance oil. Using Scentsy counter clean and a soft brillo will clean that easy peasey.

These are a few other ways to remove Scentsy waxes:

Put a ribbon at the bottom of your warmer dish — be sure an end is sticking out on one side! — then when it's time to swap out the wax, unplug your warmer, let the wax cool, then grab the end of the ribbon to pop out the whole piece.
When the wax is still melted, drop a cotton ball in the warmer dish (typically one cotton ball per cube of wax) and let it soak up all the wax, then remove and toss in the trash.

Pour liquid wax in the trash (never down the drain!), then wipe the warmer dish clean with a paper towel.
Turn off your warmer and let the wax cool. Next, turn it back on and let the wax get a little soft —it will then slide out of the dish and into the trash in one piece.

Turn off your warmer and let the wax cool until it's solid. Then, using a knife, gently loosen the edges and pop the wax out in one piece. If you choose this method, do so careful because if you scratch or break your dish it isn't covered by the warranty.
How many cubes of a Scentsy Bar should I use in a Scentsy Warmer?
We've made that easy to know how many wax cubes to use for the size and wattage of your warmer! Each warmer released since Autumn/Winter 2017 has the suggested number of wax cubes listed under the warmer dish. As a rough guide a large warmer is up to four and a mini Scentsy warmer is 1 or 2 cubes.

For any warmers older than autumn 2017, simply ask me to guide you.
What's the best way to store my Scentsy Wax?
Simply store your Scentsy Bars in a cool, dry place like a closet — never in direct sunlight! — so they'll be protected from the elements.
How do I get Scentsy wax off a wall or wallpaper?
To clean Scentsy wax off a wall you first need to know if it is paint or paper covering. If paint then use a credit card or plastic knife to scrap the cold wax off and then magic marker on the wall to get rid of wax residue. If it's paper you are really stuck…but I advise brown paper on the wax and rub with a hot water bottle!
How do you get candle wax out of a carpet with an iron?
You can follow our easy how to guide on removing Scentsy Wax from a carpet at the bottom of this page or you can watch the video here.
How do I get wax out of a carpet without using heat?
Some carpets and furnishing are too delicate to be ironing on so we have to use the ice method instead. Learn how to get wax out of a carpet without using heat here.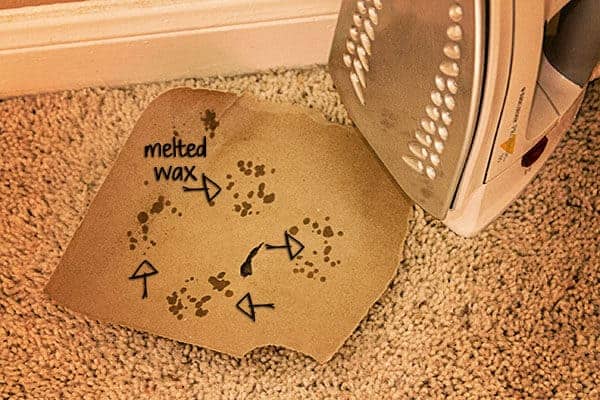 Time needed: 10 minutes.
How to get candle wax out of a carpet in five easy steps
Get your wax removing tools together

You will need to get brown paper and an electric iron. Not got an iron? ok get a bowl of boiling water instead. Dont have brown paper then use a clean cotton towel.

Apply the brown paper…

Put your brown paper over the wax spill, make sure the shiny side of the paper is facing up

Set up the Iron

You want to start out with your iron on a low setting – no one wants to replace a wax stain with a burn mark! I put the Iron on a one setting and test the tip on the brown paper, then check under it to see if carpet fibers are fused. No fusing – continue on! Using boiling water in a bowl…test the same!

Iron the wax out…

Simply Iron the wax out through the brown paper, the paper collects and traps the wax and the heat releases it from the carpet (or curtains etc). Move the paper to a fresh spot once wax shows in it (you dont want to iron the wax back in!). Keep on ironing till no more wax is showing up in the paper. Using hot water in a bowl the method is the same just place bowl on paper and watch the wax soak out…

Vacuum the carpet

Ironing the carpet has removed the wax – YEAH! but those fibers will be flat so get some life back in them with a quick vacuum. No Vacuum (seriously?) Ok then get a hard brush and go over the area to bring the pile up

Bonus step….watch the video!

If our easy to follow 5 step guide didn't help then simply watch the video instead:
https://youtu.be/Ya_LRMzRXCk