2020 Uk & Ireland Scentsy Halloween Catalogue is Spooktactular
It's that time of the year where we celebrate all things scary (and yet so very nice) at Scentsy with the launch of our New Scentsy Halloween Collection. Our amazing Scentsy Warmers, Waxes, Scentsy Buddys and Body Care collections go on sale on 1 September.
Sign up for our newsletter below to get special offers on this Halloween catalogue:
New Halloween Scentsy Warmers
We have an amazing collection of new Scentsy Warmers for Halloween including a new Jack Skellington Mini Warmer.
We also have our new Fall Foliage Mini Scentsy Warmer and Fall Foliage Mini Scentsy TableTop Warmers. Gold Acorn Leaves and Acorns on a porcelaine background bring a warm glow to every home this autumn.
Our hugely popular Sugar Skull Scentsy Warmer is back on sale after selling out in under 24 hours .
Each year we treat ourselves to a new, fun Halloween warmer and this year we are going to buy Under Wraps Scentsy Mini Warmer Wall Plugin. How cute are these grimacing faces?
Our final new Scentsy Warmer for 2020 Halloween is Leaves You Happy Scentsy Warmer. Find your autumn bliss with a pattern of pressed leaves in every vibrant shade of the season. I just love the delicate leaves glowing from this warmer…makes me want to light the fire and cosy down!
New Scentsy Halloween Fragrances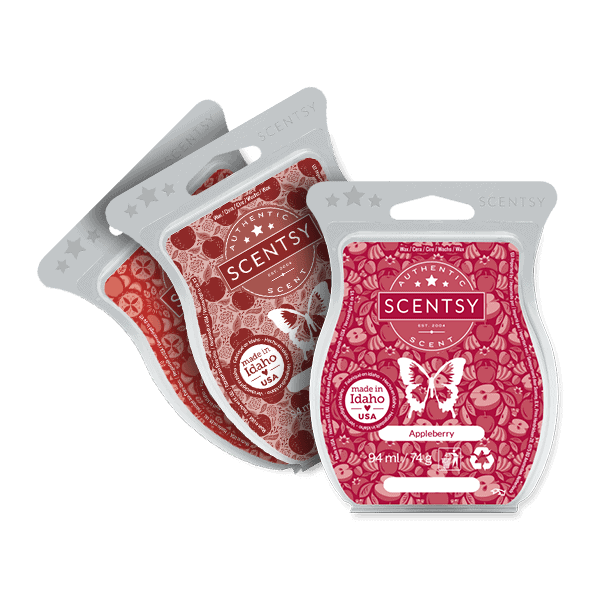 You know at Scentsy we like any excuse to release amazing new fragrances of wax melts and Halloween is no different. Our 2020 Halloween Scentsy Fragrances are:
Appleberry Scentsy Wax Bar:
Apple Pickin' Scentsy Wax Bar:
Pie Oh My! Scentsy Wax Bar:
These are available in a fun three pack wax melt pack called Appley Ever After and also in Scentsy Pods for your Scentsy Go, Scentsy Mini Diffuser and Scentsy Wall Fan Diffuser.
New Scentsy Fragrance Flower
This Autumn you can enjoy our beautiful fragrance flower in Apple and Cinnamon Sticks fragrance. In those places where you cant lug in a Scentsy use the fragrance flower and smell Apple peel, spiced white pumpkin and a touch of oak.
New Halloween Scentsy Body Care Collection
In our body care Scentsy range for halloween you can bath your ghostly body in our new sugar scrubs. These will come in:
Butter Pecan Scentsy Sugar Scrub: If Autumn had a flagship fragrance, this blend of candied pecan and maple folded with butter would be a strong contender.
Pumpkin Cinnamon Swirl Scentsy Sugar Scrub: Fresh pumpkin garnished with cinnamon stick and a dollop of whipped icing.
You can also wash the blood (or general mess) from your hands with our three new Scentsy hand soaps in:
Caramel Apple Crave Scentsy Hand Soap: Creamy golden caramel, sweet Red Delicious apples and whipped vanilla invite you to be a trick-or-treater again.
Pecan Butter Scentsy Hand Soap: Enjoy happy hands with this blend of candied pecan and maple folded with butter .
Cider Mill Scentsy Hand Soap: Brings together fresh apples, crushed pumpkin and simmering spices for a cosy autumn treat.
New 2020 Halloween Essential Oils from Scentsy
If you have a Scentsy Diffuser and want to really bring it to life this Autumn then you will love our new 2020 Halloween Essential Oils Collection. All three come in a metal gift box and are 10 ml each.
Graham Cracker Crumble Essential Oil
Matcha Chamomile Essential Oil
Rosemary Shortbread Essential Oil
Sneak Peek of New Jack Skellington + Sally – Scentsy Buddy

The Jack Skellington Pumpkin King Scentsy Warmer was the largest selling Scentsy product in our history when we launched it back in September 2019. So this year a NEW JACK SKELLINGTON SCENTSY COLLECTION GOES ON SALE. Read all about our new Nightmare Before Christmas Collection right here.
Shown above are our Jack Skellington Scentsy BUddy and his girlfriend, Sally, Scentsy Buddy. Both come gift boxed to wow and with a free Scentsy pack from our NBC range.